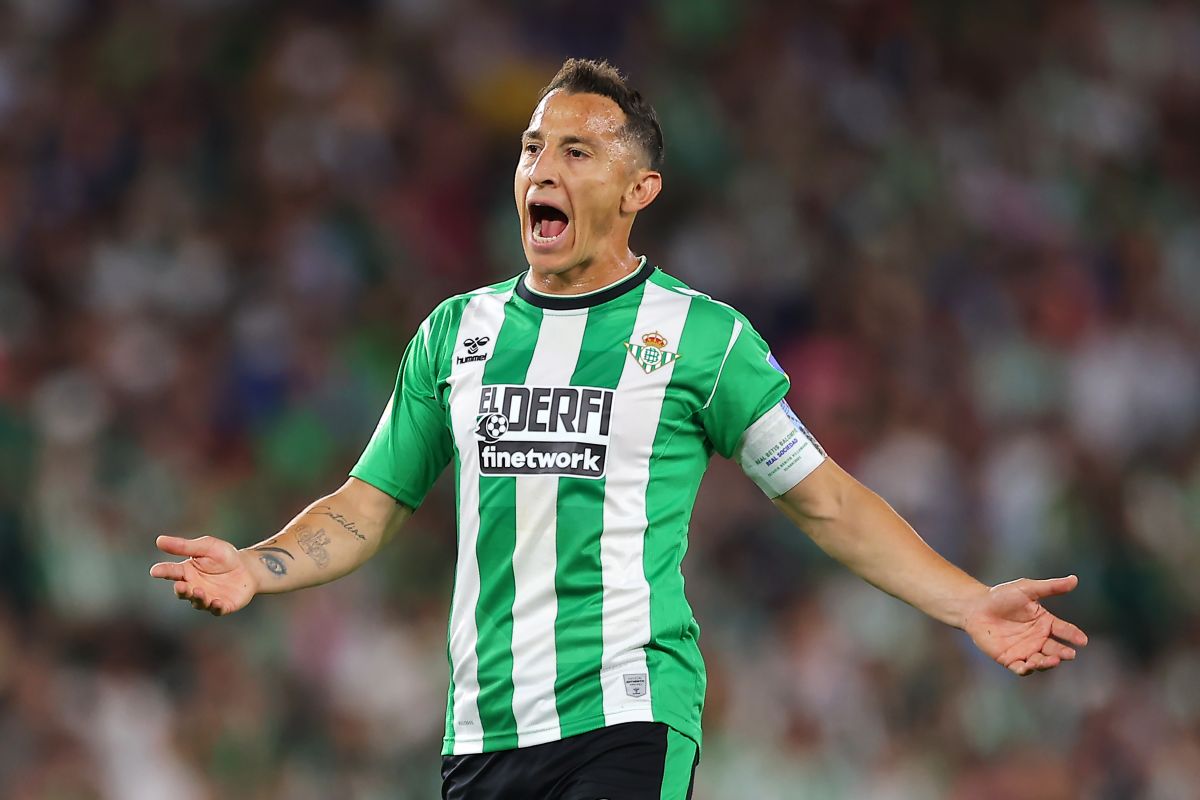 Photo: Fran Santiago / Getty Images
The Mexican midfielder from Betis Andres Guardado faces his seventh season in the green and white team with the spirit of "enjoy it to the fullest" in case it is your "last year here" and aware of your "role within the club and the locker room"and that, for all this, he is "enjoying it very much."
Guardado, who will turn 37 on September 28, He renewed for Betis until June 30 along with another of the veterans of the squadChilean goalkeeper Claudio Bravo and, in statements to the club's media, reflected on his contribution and the team's expectations this season.
The man from Guadalajara, one of the captains of the entity after the retirement of Joaquín Sánchez, has participated in the current campaign in 72 minutes spread over four games and his performance was key to the victory against Rayo Vallecano (1-0), although an ankle injury in training will make him out, at the very least, in the next duel against Barcelona in Montjuic.
"I had a small problem with my ankle training and we will see how we progress, I hope to be with the team as soon as possible"said the Jalisco midfielder, who reflected on how his deadlines are being shortened although he stated that he faces the season "with all the enthusiasm" to "contribute everything I can" from his "trench, when it's my turn," he explained.
Regarding his responsibility as captain of Chilean Manuel Pellegrini's group, he said that inheriting Joaquín's bracelet is "a very big responsibility" that he faces in his own way to "honor the captaincy" with his virtues, although he specified that the Portuense "no one can compare with him" because "he is a legend and he is a youth player."
He recognized that "Over the years, sometimes you don't have to contribute much on the field."although if that is not there they will not take you into account", and he elaborated on the importance of the example by stating that "as a captain" he has "We have to give everything off the field and on it, raise the level because if not, we lose importance."
He referred to the next match against Barcelona, ​​"a great team with important individuals, with a more decisive style than in other years, which seeks the rival area without so much touch" to which, according to him, Betis has to "stand up to him and trust" that he is doing it well and so that Xavi Hernández's people are the ones who worry.
"In recent years we have competed quite well against them, although we do not always come out with the desired points. We are in a very good dynamic, with positive feelings from the team and I hope we can keep them there and come out with a good result.", he indicated.
He confessed that Pellegrini's team has "a thorn in its side" with the Europa League, in which They make their debut next week against Scottish Rangers and in which they will try to "start well and have a great group stage like last year" because "if you are first, you avoid the 'Champions' and that will be important."
"We are all aware of what has happened to us in the last two seasons, when we have faced the round of 16 and We are going to try to overcome that barrier, although it is not easy", noted the Guadalajara media, who highlighted the level of the Betic squad and said that it is "very complete, no matter who plays", a team that "always competes and achieves results."
Keep reading:
· Andrés Guardado's wife denies Atlas and assures that the club closed its doors to the Mexican
· Ronaldinho fondly remembers his time in Mexican football
· Andrés Guardado reveals when he will retire from football after more than 15 years of career in Europe
· Alex Morgan excites Liga MX fans with his possible signing