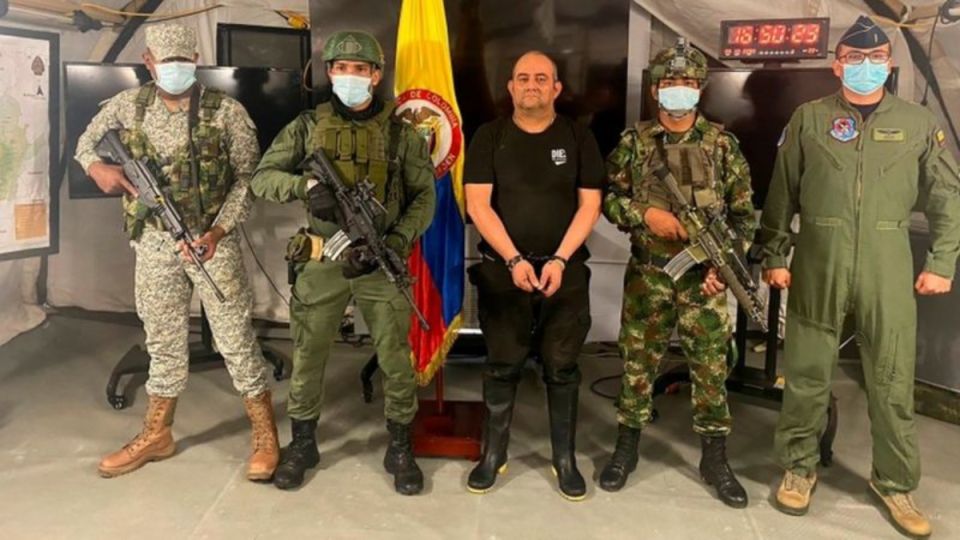 Photo: REUTERS / Courtesy
The director of the Colombian Police, the General Jorge Luis Vargas, assured that the captured Dairo Antonio Úsuga David, alias "Otoniel" and head of the Clan de Golfo, the main drug trafficking gang in the country, seeks to avoid extradition to the United States.
"Information elements processed by the National Police (…) indicate to us the intentions of 'Otoniel' to avoid extradition to the United States," said the senior official in a statement to journalists.
"Otoniel" was captured on October 23 in a rural area of ​​Necoclí, in the department of Antioquia, where it had been fenced for months.
As General Vargas explained, the "human sources" and the "technical material elements within judicial processes" have allowed the Police to verify the intentions of the one who Until the time of his arrest in October, he was the most wanted criminal in Colombia..
"Collection in the field, in operations against (aka) 'Chiquito Malo', 'Gonzalito', 'Siopas' and' Brayan"They would indicate the articulation it has to achieve the objective of non-extradition," warned the police director, who added that they will send that information to the US judicial authorities.
The United States requests the extradition of the criminal boss to respond to the courts of New York and Florida for drug-related charges.
In Colombia there are 122 arrest warrants against Úsuga and six sentences convictions, including two of 40 and 50 years in prison, for aggravated homicide, homicide of a protected person, forced disappearance, forced displacement and illegal recruitment of minors.
On the other hand, in an appearance before the Special Jurisdiction for Peace (JEP) "Otoniel" assured in December that he delivered to a group of soldiers to respect his life.
However, the Colombian president, Iván Duque, responded that the head of the Gulf Clan He was captured in a military operation and must be extradited to the United States where he is wanted for drug trafficking.
Even in that offensive, Duque said, police officer Edwin Guillermo Blanco was killed.
Keep reading:
– The Colombian people who continue to mourn the arrest of "Otoniel"
– What is the true power of the Gulf Clan
– Why are Pablo Escobar's hippos considered "legal persons"?
.