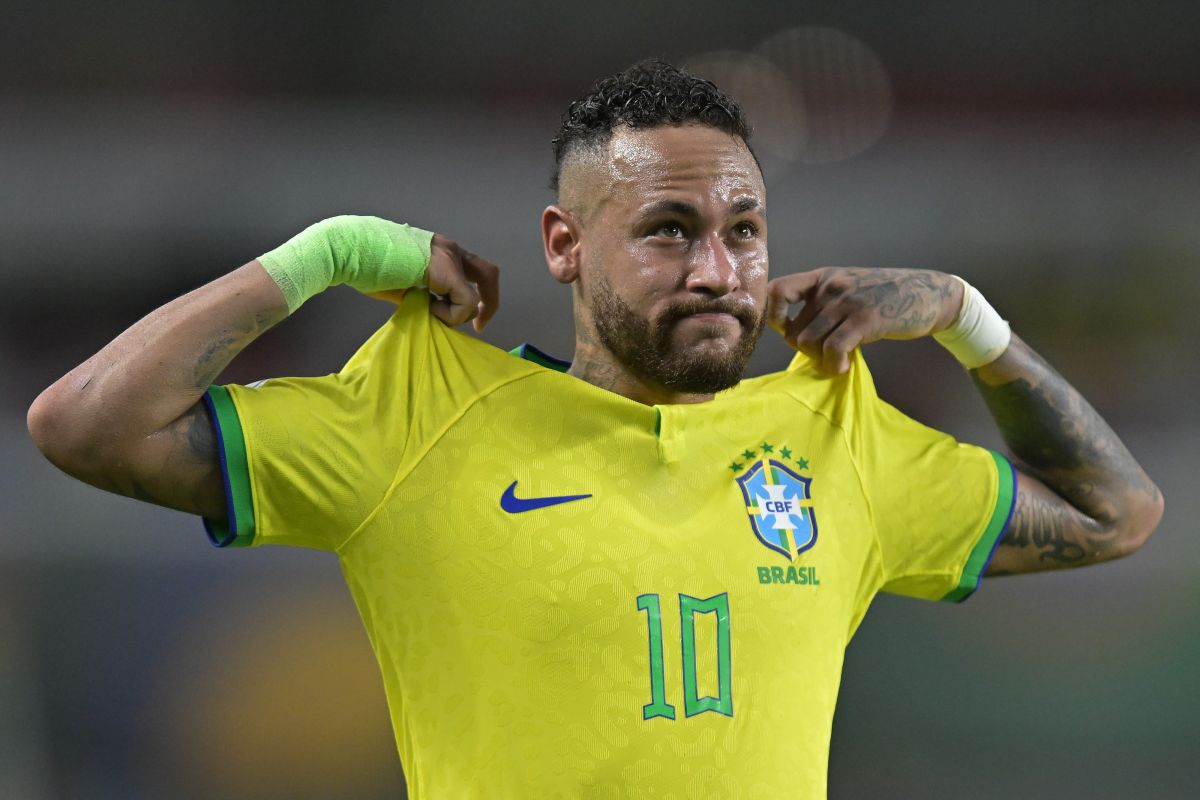 Photo: Pedro Vilela / Getty Images
Neymar juniorwho scored a double this Friday in the victory of the Brazilian soccer team, for 5-1, over Bolivia and surpassed Pelé as the Canarinha's top scorerstated that because of that record he is no better than the late idol.
"I'm very happy. I never imagined I would break that record. But I don't want to say that I'm better than Pelé just because I surpassed him in this record."Declared the striker after the victory in the Amazonian city of Belém on the first day of the qualifiers.
The scorer received a plaque from the president of the Brazilian Football Confederation (CBF), Ednaldo Rodrigues, as the Canarinha's top scorer in 'inter-national' matches.
Together with Pelé and in FIFA accounts, Neymar had 77 goals and with the two goals this Friday in the Amazonian city of Belém, The former Barcelona player went on to surpass the eternal idol.
However, for the Brazilian Football Confederation (CBF), which counts some friendly matches against clubs and which are not considered by FIFA, Pelé has 95 goals compared to Neymar's now 79.
"I just want to write my name in the history of the Brazilian team and thank my family, who is far away, and my teammates," said Neymar upon receiving the commemorative plaque.
The Saudi Al-Hilal forward missed a first opportunity to become the Brazilian team's top scorer by miss a penalty after 16 minutesafter a handball in the area by Adrián Jusino after an arrival from Rodrygo.
The 4-0, which was his first of the night and established Neymar's record, It came after sixty minutes when the former French PSG forward defined on the Bolivian goalkeeper Guillermo Viscarra after a pass from Rodrygo.
In the 79th minute, Neymar hit the crossbar with a shot and in the 92nd minute, already in stoppage time, he retaliated with a second of his own. and the fifth for Brazil after a cross shot by Raphinha, Barcelona forward.
The other Canarinha goals were scored by Rodrygo, also with a double, and Raphinha. Víctor Ábrego marked the Bolivian discount,
Behind Neymar (79 goals) and Pelé (77)appear Ronaldo Nazário (62), Romário (55), Zico (48), Bebeto (39), Rivaldo (35), Jairzinho and Ronaldinho Gaúcho (33) and Ademir and Tostão (32), all retired and according to the statistics of FIFA
On the second day of the South American qualifying round, On Tuesday, Brazil will visit Peru in Lima, which tied in Ciudad del Este (0-0) against the local Paraguayand Bolivia will host Argentina in La Paz, which won in Buenos Aires (1-0) over Ecuador.
Keep reading:
· Former German soccer player thanked Saudi Arabia for taking the "fake Neymar"
· Brazil thrashes Bolivia and Neymar becomes the new "King of Goal" of the Canarinha
· World Cup 2026, how are the places for the World Cup distributed?